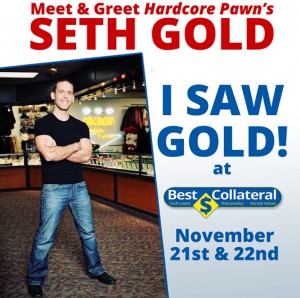 San Francisco based pawn shop and retail shopping chain, Best Collateral, is pleased to announce that Seth Gold, star of 'Hardcore Pawn', will visit three Best Collateral locations in November.
Visitors will have the exciting opportunity to meet and greet Seth Gold on the following dates and time:
Saturday November 21st in San Mateo from
9:30am – 11:00am
Saturday November 21st in Oakland from
2:00pm – 4:00pm
Sunday November 22nd in Vallejo from
9:00am -10:30am
Click here to for store hours, contact info and directions.
Seth is a fourth generation pawnbroker who works alongside his sister and father at American Jewelry and Loan, located in the heart of Detroit. Their store has been the subject of truTV's top-rated show, Hardcore Pawn. Now in its eighth season, with over 150 episodes, Hardcore Pawn has broken numerous audience records and averaged nearly three million weekly viewers in the US. The show also enjoys immense popularity in other markets including Australia, Europe, and South Africa.
"Best Collateral is a fantastic pawn store chain, and I am excited to meet their loyal customers," Seth said. Fans will have the opportunity to visit with Seth, take photos and grab an autograph while taking advantage of specials and discounts on merchandise at the store. With roots that trace back to 1903, Best Collateral is a leader in the collateral lending industry. Since its founding, Best Collateral has expanded to incorporate eight locations located in the heart of San Francisco, the North Bay Area and Sacramento.