Four Reasons to Buy Diamond Jewelry at a Pawn Shop
Diamonds are fabulous and women find them irresistible. A wedding ring is no longer a wedding ring if it isn't a diamond ring. A simple diamond bracelet or diamond earrings adds sophistication to any look. A beautiful diamond necklace is elegant and timeless. Our diamond jewelry often becomes an heirloom to be passed down through the generations. Diamond jewelry is probably the most valuable piece in any woman's collection, and, because we hold our diamonds so dear, many women shy away from buying theirs secondhand.
Here are four reasons you should buy your diamonds from a pawn shop.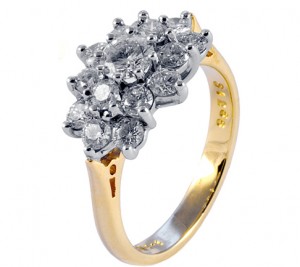 You Get More Value for Your Dollar
The most obvious reason to buy diamond jewelry second hand is that it costs less. Diamonds are expensive and prices are rising. You can get quality diamond jewelry from a pawn shop for a fraction of the price you would pay retail. This means you can get a higher quality diamond for your price range.
Interesting Vintage Pieces
The best way to score a unique vintage piece of jewelry is to visit a pawn shop. You can find beautiful, original pieces that you wouldn't find in a retail jewelry store. An antique bracelet, necklace or ring is something that people will notice every time you wear it!
Original Designs by a Jeweler
Most pawn shops have a professional jeweler on hand willing to help you customize what you may already own, or what they have in stock. Your gold can be melted down and your diamonds put in a setting that you love. You will have a beautiful custom piece without paying retail prices.
Ethical and Environmentally Friendly
Mining diamonds and precious metals has an impact on the environment, but when you buy your jewelry secondhand you are reducing that impact. Reusing and repurposing is the most responsible way to own diamond jewelry!